Legion Capital Launches Next Generation Investor Platform

Digital platform GoLegion provides investors with enriched capabilities in alternative investments.
Orlando, FL – Legion Capital Corporation (OTCQX: LGCP), a publicly traded FinTech driven specialized lender, has announced the launch of its next generation investor platform for alternative asset investing, offering an enhanced investor experience with updated offerings, customized views and analysis.
Increasingly, investors seek digitized investment solutions to move away from paper and toward cloud-based platforms that offer 24/7 access to investment offers and their portfolio information.
"We founded our company by going direct to investors with our original investor platform in 2017," said James Byrd, Legion Capital Chairman and CEO. Now with the innovative GoLegion investor platform, we have empowered investors with greater agility to meet evolving investor expectations as the alternatives industry quickly becomes more complex and accessible."
"GoLegion creates a compelling experience, by giving our investors more influence over their individual data consumption and interaction with our platform," explained Chief Technology Director J. Bradley Hilton.
The GoLegion investor platform provides multiple features to enhance the investor user experience:
Direct interface allowing investors 24/7 access to their updated investment data and offerings.
Secure data transmission including balances, transactions and returns.
Investor Documents
Investor Offerings
Future developments with GoLegion will consist of:
A tailor-made dashboard specific to the user and their Investment(s)
Account/investment specifics relative to the user
Direct access to electronic investment documents
Legion Direct Investor Platform can be found at www.GoLegion.com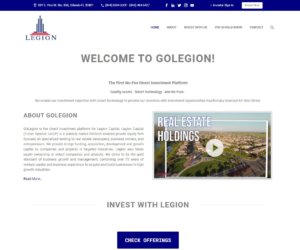 About Legion Capital
Legion Capital (Ticker Symbol: LGCP) is a FinTech enabled, publicly traded specialized business lender providing growth capital to small and medium sized companies. Legion provides bridge funding, acquisition finance, development, and growth capital in a highly customized and expeditious manner, addressing a large and growing segment of small business lending that is under-served by banks and institutions.
Legion Capital serves our Investors and Financial Advisors through a suite of diversified equity and debt investment products, many of which offer attractive yields, non-correlation to traditional financial markets, and defined liquidity dates. For more information, please visit www.LegionCapital.com.
Forward-Looking Statements
This article may contain "forward-looking statement" within the meaning of Section 27A of the Securities Act of 1933 and Section 21E of the Securities Exchange Act of 1934. Such statements include, but are not limited to, any statements relating to our growth strategy and product development programs and any other statements that are not historical facts. Forward-looking statements are based on management's current expectations and are subject to risks and uncertainties that could negatively affect our business, operating results, financial condition and stock price. We expressly disclaim any obligation or undertaking to release publicly any updates or revisions to any forward-looking statements contained herein to reflect any change in our expectations or any changes in events, conditions or circumstances on which any such statement is based, except as required by law.